When making purchases with a Visa gift card, it is possible that you might periodically get distracted and lose track of the exact amount on the card. It is simple to check the balance on your Visa gift card whenever you feel the need to determine how much money is still available on the card. You have two choices available to you when it comes to checking your balance. You can check your balance by calling the toll-free number shown on the back of your card or by looking it up online.
Way 1: Performing a Balance Check Via the Website
Gain access to the website for the Visa gift card: You will need to go to the website for your Visa card in order to check your balance using the internet. You can see this by going to the website address https://mygift.giftcardmall.com/.

To see your current balance, choose the tab labeled "Check Balance": If you scroll down, you will find that there are three tabs called "Personalize Pin," "Check Balance/Transactions," and "Register Card." Select the option labeled "Check Balance" to see both your current balance and a history of previous transactions.
Put the card number in the field: As soon as you get into the website, you will automatically be sent to a page that will ask you for information on the card you are using. First things first: key in the card number. The lengthy number that can be found in the center of the card is your card number.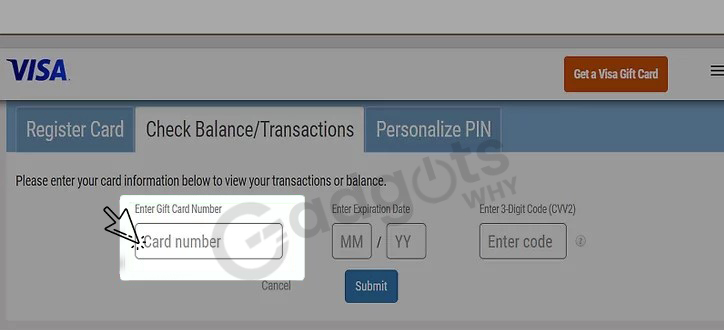 Date of expiry must be entered: The date must be entered immediately below the card number. This is the day when your card will no longer be valid. On the offered screen, you have to enter the date of expiry.
Type in the three-digit code: In order to see your current balance, you will need to input the three-digit code. The information you need is on the back of your card. There is going to be a white strip there with the number of your card inscribed on it.

Check your balance: After you have ensured that all of the numbers have been entered properly, click the button labeled "Check my balance." After that, you will be sent to a new page that displays your current balance in addition to any recent transactions that have been made.
Keep in mind:
In the event that there was a mistake, you will need to go back. And input the numbers again with extreme caution. It's possible that you typed something incorrectly in your attempt. Call the toll-free number that's printed on the back of your gift card if you're still having trouble checking your balance.
Recommended: Activate Prepaid Visa Gift Cards
Way 2: Making a call to their toll-free number to Check Balance on Visa gift card
Make a call to the free number printed on the back of your card. Your card's back should have a number listed on it, and you can call that number. This is a number that can be called at no cost to the consumer for assistance. You can check your balance by dialing the number that is present there.
It will help you check your balance if you answer the questions that are asked. When you call the number, listen carefully to and follow all instructions that are provided to you. To check the amount on your gift card, it is possible that you will be required to input the card's number. In addition, you will also have to enter its expiry date and the three-digit code.
Note: If you are unable to find the number, you can reach someone at their official website. In the event that you are unable to locate a toll-free number on your gift card. Vista provides a general number that you can contact with any inquiries about your gift card. If the toll-free number is not available or if it is not functioning, you can go over to their official website.
Are you unable to get a Credit Card due to Bad Credit? Then get an OpenSky Secured-Visa Credit Card with bad credit without any hassle!
Conclusion: So, that is how you can find out the balance on your Visa gift card. We hope that our instructions help you in getting your answer. And, if you have any doubts or feedback, please drop them in the empty comment area below.