Biz Kids is a pedagogical initiative that is directed towards finance and entrepreneurship based on the Emmy Award-Winning public television series of the same name. The concept is pretty simple and literally 'simple' as kids teach kids about the elusive financial and business-related concepts. The series has been running since 2008 with a total of 71 episodes under its belt.
Each episode consists of rudimentary financial concepts such as stock markets and investments that can be taken with a chug of comedic sequences, money managing tips by different hosts, and anecdotes from the life of real young entrepreneurs.
Soon enough, the show which once aired on TV has now clinched an online presence by transforming itself into a digital brand that now includes books, online courses, helpful educational resources, video bundles fit for streaming, games, and lots of other fun stuff.
Owing to its growing popularity many seem to be interested in knowing how to activate the services offered by the company on their devices. The following activation guide will cover all the necessary steps involved in availing of such services.
Open the biz kids website
The first is the most basic one as you just have to type biz kids from your device and the very first website that pops is just it. Click on it and you will be led to this interface of the website.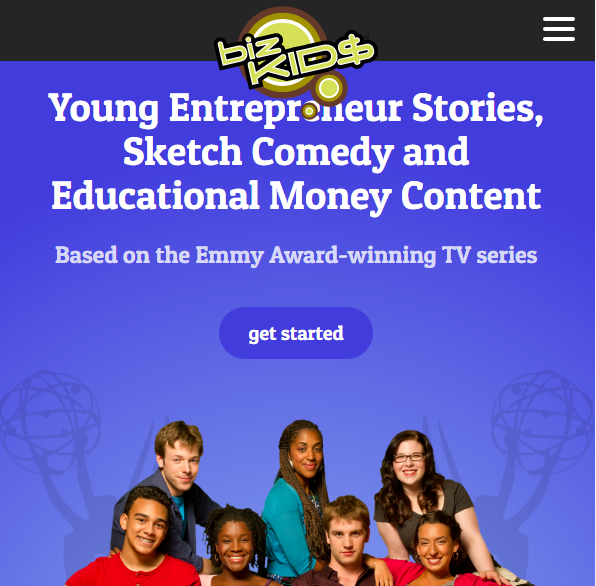 Get started
Now the next step, as you have guessed by now is to click on t 'get started' and you will be taken to the following shown page.
Click on the downward arrow for the next step.
Before we move on to the next step it is important that you know what Biz kids have to offer in the form of its paid services. Unlike other educational platforms, Biz kids are not based around a single subscription plan that will allow you to avail all its services. Rather, the website will have multiple seasons consisting of multiple videos that deal with different financial topics. Now, it is up to you whether you want to purchase a particular video that you find most interesting or an entire bundle.
For instance, if you want to buy the bundle of their financial basics video then it will cost you around 4.99$.
However, they are not just about selling things, they provide free resource material and games for learning different concepts if you don't simply want to buy their video plans. However, if
Select the video or bundle you want to buy
After having selected the video bundled you want to buy. Click on the buy button, as shown in the above picture. A new page of this sort will open:
The reason why you will have to register in Vimeo first is that it is a streaming platform that hosts biz kids and registering is a prerequisite as you will be able to stream through this platform only.
Fill in the details
Now, fill in the details in order to register yourself or you can simply log in through Facebook or Google.
What about an entire season
If you want to but the entire season it will cost you much cheaper if you buy the entire season for the cost of 25.99$.
Click on the 'buy" button if you have decided upon it and a similar page asking for you to register on Vimeo will pop up.
Make the payment
The next step towards streaming your Biz kid's video is to make the payment. After you have registered, this page will be lit up.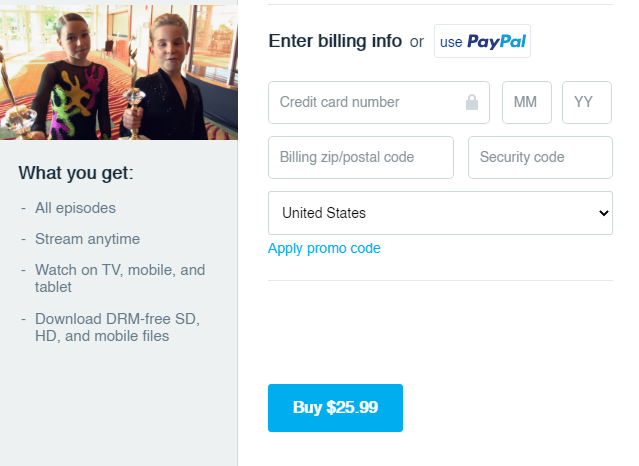 Fill in your bank credentials and then click the buy button. After this all the videos will be available for you to stream through Vimeo anytime, using different modes such as your TV, mobile, or tablet or you can also download them on HD for all your devices.
On the other side of biz kids
The other fascinating feature about biz kids is that without having to buy the video series you can still learn a lot through its blogs that mostly cover A wide range of social, economic, and environmental topics such as 'Young entrepreneurs, this is your time to shine, 'Teaching kids the truth about credits', 'The priceless and perilous smartphones and many more.
Moreover, if you are a teacher there will be a lot that you can adduce from biz kids with its specific course designed for varied levels designed for middle schools and high schools. These course materials are absolutely free that you can refer to in your online classes and if you supplement it with the videos, it will expedite their learning and understanding.