Do you know the super interesting story behind the Cornerstone TV channel? Let me tell you, Norma Bixler had a vision of Cornerstone Television on a chance visit to the Christian Broadcasting Network over 40 years ago. She received a distinct call from God to construct a Christian television station in Pittsburgh with her husband, Russ while sitting in the foyer of that still-developing network. Russ didn't express his conviction until months later, after some amazing insights, and even then, the pair realized they had their work cut out for them. The proposed station had to overcome practically every obstacle imaginable: financial, legal, personal, logistical… Over the following 10 years, God guided them over, under, around, and through each hurdle, providing miracle after miracle to help them realize the vision He'd given them.
Cornerstone TV channel is one of the decent channels among others. I am sure you want to give it a try on your device. So let's see how you can watch the Cornerstone TV channel on Roku.
Steps to Add and Watch Cornerstone on your Roku Device-
Firstly sign in to your Roku account.
Once you are in, type this in the bar right above the screen- owner.roku.com/add/CTVN.
While entering this be careful and type exactly what is mentioned here.
Now the screen will be displayed that says ''Add Cornerstone Television Network to your Roku account''?
Tap on the option ''Yes, Add channel''.
You can find the Cornerstone network under the ''My channels'' section.
Launch the Cornerstone network on the device.
You will get to see two options, ''CTVN live'' and ''Cornerstone on-demand''.
You can further tap on the second option and start streaming your favorite episodes offered by Cornerstone.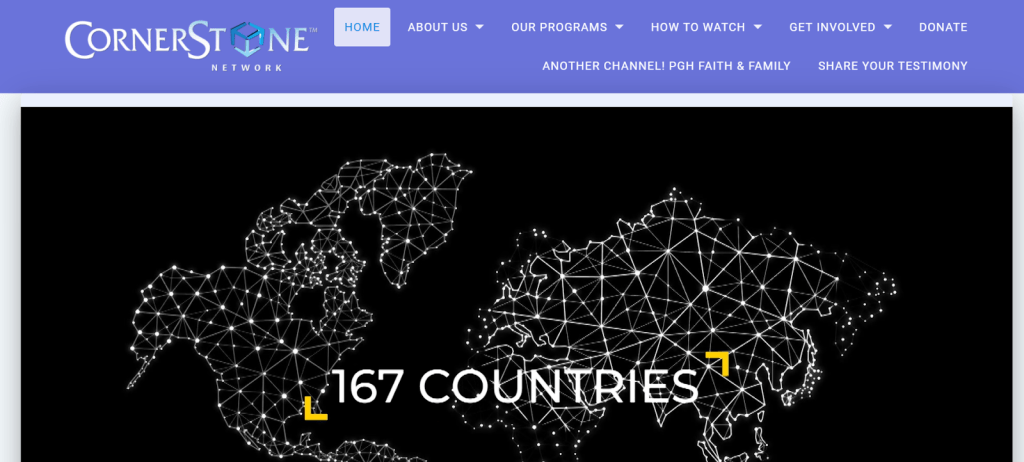 Worth watching shows on Cornerstone TV channel
| | |
| --- | --- |
| 700 Club | Dinner COnversations |
| ACLJ This Week with Jay Sekulow | Discovering with Jewish Jesus |
| Things are Possible with John Michael Talbot- show | From his Heart |
| At Home with Arlene Williams | Global Ventures Good Steward, The |
| Basics with Beth | Hard Questions |
| Bible-Discovery | Touch with Charles Stanley |
| Bill Graham Classics | Into His Presence |
| Billy Graham TV | It's Supernatural |
| Born to be Free | James Robinson |
| CBN Newswatch | Jewish Voice |
| Christian World News | Joy of Music |
| Cornerstone Block Party | Joyce Meyer- Enjoying Everyday Life |
| Crossing Paths with Don Reed | Life Today with James Robinson |
| CrossTalk | Love Worth Finding |
| Day of Discovery | Miracles Today |
What Cornerstone believes in?
Each organization is called by God to stress particular aspects of His character and kingdom. As just a consequence, a summary of Cornerstone Television Network's distinctive qualities has been developed- that is, the things that God has called us to emphasize.
The Holy Spirit's Baptism (Baptism of the Holy Spirit)- Though the Holy Spirit is present in every Christian's life, we think that scripture clearly indicates the second work of God, known as Holy Spirit Baptism, which is available to all believers. Receiving a personal prayer language, commonly known as "speaking in tongues," is a common sign of this process.
Evangelism- God's desire is for everyone to come to know Him as Lord and Savior. As a result, we shall make every effort to share the good news of His love with as many people as possible. New Christians will be urged to pray, read the Bible, and attend a Bible-preaching church in their area.
The Holy Spirit's Gifts- We believe that all of the Holy Spirit's gifts listed in the New Testament, such as healing, wisdom, understanding, prophecy, tongues, and interpretation, are still active today.
Creationism- We believe in a literal interpretation of the creation process as described in God's Word. True science and scientific discovery, we believe, always point to an intelligent designer of the cosmos.
Holiness- God wants every Christian to live a holy life, free of repeated and entangled sin. We should also live a life that promotes justice in our community and produces eternal fruit for the glory of God.
Share your Testimony
They need your help, Cornerstone Family! It's now your time to create a film about how Cornerstone TV has influenced you or your family. We're excited to hear how Cornerstone Television has provided you with hope, assistance, or healing. And who can say?! Your testimony might potentially be broadcast on television!
Here are some ideas for how you can tell your story:
Step 1 — Record: In 2 minutes or less, record what Cornerstone TV has meant to you using your phone in the HORIZONTAL position. If your phone camera offers video quality settings, make sure you use the highest setting.
Step 2 — Upload: This is the URL to use to submit your video; www.dropbox.com/request/4G6jKG1D7KjGNohLOMzE. By doing so, you're giving Cornerstone TV permission to use your film and its contents in printing, on TV, and absolutely on social media.
It's time for you to shine brightly with a message of hope!