If you want your kids to learn something in a fun way then Doll Time is here for you. Doll Time is free and safe software that uses imaginative stories to entertain and teach children about politeness, dedication, perseverance, the significance of laughing, and friendship. The stories are amusing, and the whole family will enjoy a few laughs! For hours of entertainment, get this free software today! It is a youtube based channel.
The films are intended to entertain as well as educate children about good manners, perseverance, and how to have fun. The following categories of videos are available:
Doll Time
A Day in the Life
Elsa and Anna at School
Elsa and Anna Pet Fun
Holidays and Vacations
Summer Fun
Now if you are wondering how you can watch Doll Time on your Roku device then you just need to follow this article till the end and you will get to know about it.
Add and Stream Doll Time on Roku device
The stories with Disney characters and more are available for children to watch. Famous Elsa, Barbie, Anna, and other toys such as jasmine, Disney Princess dolls Belle, Moana, LOL dolls, Shopkins, and more are included in stories. Doll Time is now free in the Roku channel shop, allowing you to watch entertaining films on your large screen TV.
To install and enjoy Doll Time material on Roku, follow these simple instructions.
Get the Roku device connected to the TV's HDMI port.
On the Roku remote, click on The home button.
Scroll down to the Streaming Channels option on the home screen.
To find Doll Time, go to the search box and enter it in using the on-screen keyboard.
Select the Doll Time app from the list of choices.
Then, to finish the installation, select the Add Channel option.
To open the Doll Time app, tap the Go to channel icon.
You're all set to watch amusing videos, moral stories, and more.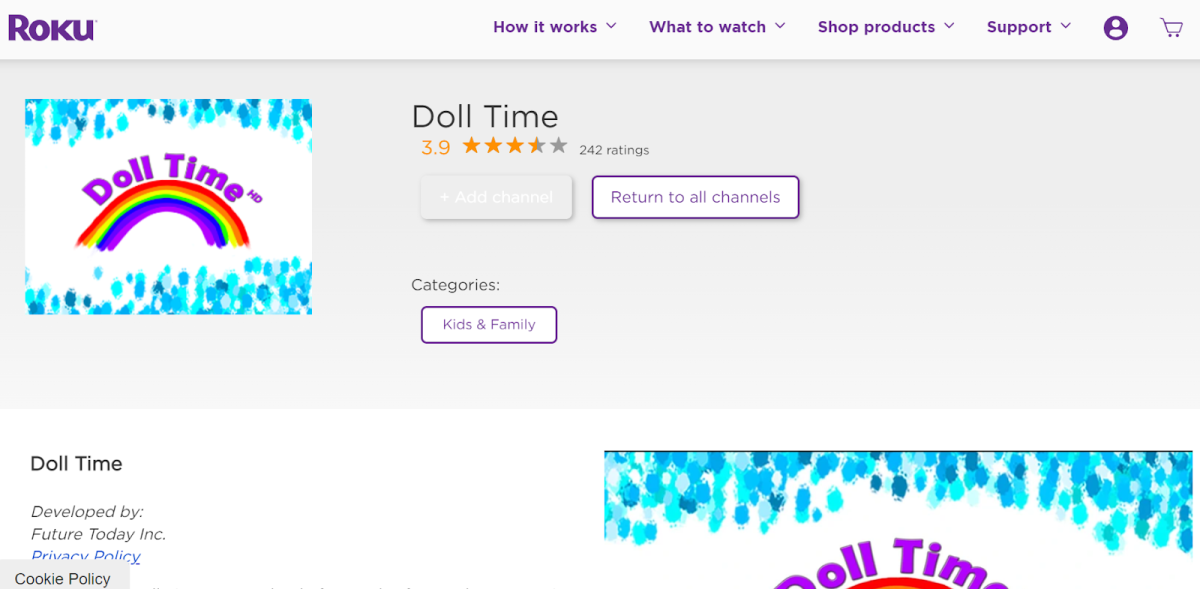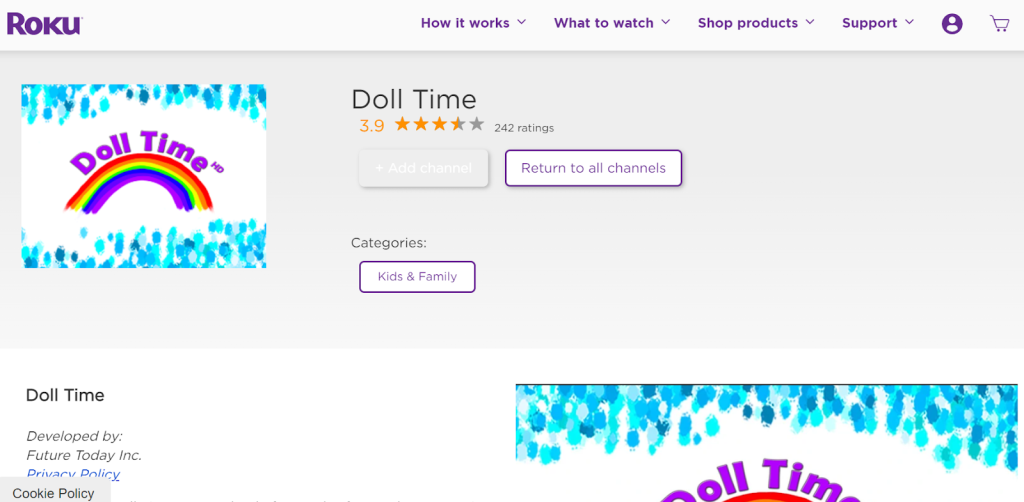 Popular videos of Doll Time
These are the most popular YouTube videos with over a million views.
First Crush! Elsa has a HUGE CRUSH at School!
LEG CAST! Elsa & Anna Bicycle Tumble!
Halloween Trick or Treat Elsa and Anna
Elsa & Anna at the Movies! Anna makes a big mess and goes on her iPhone!
RAINY DAY Elsa & Anna Playing
Cheerleading Tryouts Elsa & Anna!!!
VACATION Shopping Elsa & Anna New Luggage
Hair Too Short! Elsa & Anna make a Big Mistake!!
FIRST Day Back at School Elsa & Anna Miss the BUS
Another Youtube channel '' Come play with me'' for kids
This channel is just like the Doll Time channel with little differences. Come Play With Me is a YouTube channel dedicated to doll play, which fascinates children. It is based on the characters Elsa and Anna, who are dolls. This channel is popular among children, which is why it has so many subscribers on YouTube. This is one of the most popular children's channels on YouTube or anywhere else.
Face Reveal Come Play With Me
Come Play With Me has kept her identity hidden. She's been able to maintain her anonymity and it's been working out well for her. Because of the disguised face of one of the reasons for her fame, it's probable that her face won't be exposed anytime soon.
Face Reveal Come Play With Me
Come Play With Me has kept her identity hidden. She's been able to maintain her anonymity and it's been working out well for her. Because of the disguised face of one of the reasons for her fame, it's probable that her face won't be exposed anytime soon.
Wikipedia: Come Play With Me
Despite having millions of followers, Wikipedia has failed to mention Come Play With Me. There are, however, a few publications that give statistical data about her. Because the children in her audience are too young to use Instagram, Come Play With Me has roughly 9.85 million YouTube subscribers and around 5000 Instagram followers. She joined YouTube on January 24, 2014, and has been active ever since. She has amassed all of these followers in the last seven years while successfully remaining concealed from the outside world.
Some of the best videos of Come play with me
Shower time ! Elsa & Anna toddlers- cleaning- bedtime
Blanket fort ! Elsa & Anna toddlers
Gym class! Elsa & Anna- running race- school- new coach
Back to school shopping!
Dreaming – big slime
What Are the Benefits of Allowing Babies and Toddlers to Watch Television?
TV may assist children in learning about a range of topics
If your youngster is interested in a topic, there is almost always a TV show, movie, or instructional DVD that covers it thoroughly. Believe me, kids love to watch adult-oriented programs where they are instructed about something. Children's shows, whether or not they are designated as "educational," can give opportunities for learning.
Kids can learn about locations, creatures, and things they wouldn't be able to see otherwise through media
Most children will never witness a rainforest or a giraffe in the wild, but they will have seen these sights on television. Thankfully, educationally oriented producers have developed a wealth of programs and documentaries that allow viewers to see great footage of nature, animals, civilization, and many civilizations. This form of the material may help both children and adults learn more about our planet and the animals and other people that live in it.
Kids might be inspired by TV shows to attempt new things and engage in "unplugged" learning
Children desire to participate in instructional activities when they see their favorite figures doing so. Learning activities that incorporate well-known characters are also more appealing to children. Preschool shows are particularly good at creating ideas for learning activities and motivating children via the use of characters.
On-screen role models and examples can have a good impact on children
People they see on television, particularly other children, have an impact on them. This can obviously have a bad impact, but it can also have a beneficial impact. Recently, children's television programs have begun to promote good messages such as healthy living and environmental awareness. Kids will be positively affected if they witness their favorite characters make excellent decisions. Parents may also point out the excellent features these characters exhibit, which can lead to fruitful family discussions.
All the things related to the content from Doll Time for your kid are done. You can now watch Doll Time on your Roku device. If you want to know about the other channels then the very famous channel is ''Come play with me''. It's on youtube. It has a variety of content for you.