Watch NOW TV on Chromecast with Google TV: The Sky Group introduced the online streaming service Now TV. It broadcasts popular films and television shows, as well as all Sky Sports channels in real-time. In the UK, Ireland, Germany, and Italy, the streaming service is available. It includes numerous must-watch live sporting events, the newest and most exclusive dramas, etc. These days, TV even has amazing children's programming and is a terrific source of amusement for youngsters. You must sideload Now TV as an apk because it isn't currently Google TV compatible. Additionally, Now TV is a geo-restricted application, and to bypass the restrictions on Google TV, you must install a VPN.
Plans for NOW TV Subscriptions
NOW TV offers a variety of subscription plans that do not require a contract. As a result, you can select any plan that meets your streaming requirements. Users can cancel the free trial at any time and continue to enjoy the membership benefits until the trial period expires.
Entertainment plan:
They are charging £9.99 per month for the Entertainment Pass. It includes a one-week free subscription for all new customers. There will be 16 live TV channels and 300 box sets.
Sky Cinema Pass:
It costs £11.99 per month and includes 11 Sky Cinema channels and 1000 on-demand movies. It also includes a seven-day free trial.
https://www.gadgetswhy.com/watch-now-tv/(opens in a new tab)
Sky Sports Pass:
This pass costs £33.99 per month or £5.99 per day. This package includes 11 Sky Sports channels. Furthermore, the mobile-only sports plan is £5.99 per month. This plan, however, includes access to 5 Sky Sports channels.
NOW Kids Pass:
This kid's subscription costs £3.99 per month with a 7-day free trial. It gives you access to 6 channels and hundreds of hours of on-demand kids' content.
Hayu pass:
Hayu Pass costs £4.99 per month with a 7-day free trial. It also offers 250 box sets of prominent reality TV shows.
Recommended: Install Sky Go on your Streaming Device
How to Watch TV on Chromecast with Google TV
You can watch Now TV on Chromecast with Google TV in one of two ways:
App sideloading
Using a smartphone or PC to cast
Utilizing Downloader to sideload Now TV on Google TV:
The steps listed below can be used to sideload Now TV using the Downloader app.
Click the profile icon on the Google TV home screen.
From the menu, choose Settings, then press System options.
Scroll down to the Android TV OS build option after clicking About. To receive the prompt "You are now a developer!" keep tapping the option.
To return to the home screen and look for the Downloader app, press the home button on the remote control.
If you haven't downloaded the app yet, choose Install.
Select the Profile icon on the home screen. In the menu, select Settings.
Click Security & Restrictions after choosing Apps.
To install unknown apps, select Downloader and then tap Unknown sources.
On your TV, launch the Downloader app and select Allow from the popup.
Click Go after entering the Now TV apk's URL in the browser. Choose (Each update's Now TV APK is different. You can look at the new APK link, copy it, and paste it into your browser to download it.
Once the file has been downloaded, click Install to start the installation process and choose Open to start the Now TV app on your TV.
Log in to your account and use Google TV to stream Now TV content.
If you find that sideloading on Google TV takes too long, you can cast NOW TV to Google TV. The part that follows explains how to cast from a phone and a computer.
Utilizing the Now TV App:
Screen casting is quick and easy because the NOW TV app has a cast option.
Join the same WiFi network as your smartphone and Chromecast with Google TV.
Install the NOW TV app from the Google Play Store or the Apple App Store on your Android or iOS smartphone.
Sign in to the NOW TV app on your phone.
Now, at the top of the screen, press the Cast symbol.
Finally, select your TV from the list and begin casting the NOW TV app.
Also Read: Chromecast Mubi to TV to stream movies
Watch Now TV on Google TV from PC:
You can also access NOW TV from the web and cast the program to your Google TV. For example, suppose you discovered an intriguing show on the NOW TV website. And right now, you may cast your favorites on your TV by following the steps below.
Navigate to https://www.nowtv.com/ in your PC's Chrome browser.
Enter your subscriber account information.
Next, decide which shows you want to watch on the large screen.
Don't forget to set up a Wi-Fi connection between your Google TV and your PC.
Now, on your PC, click the Three Vertical Dots symbol and select the Cast option.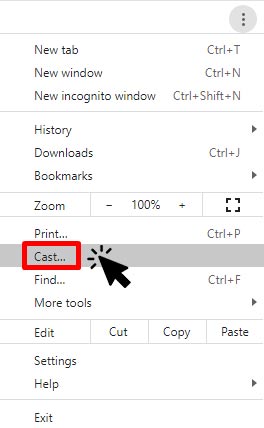 Select your TV and then click the Cast tab under the Sources page.
The preferred show will now begin to play on your television.
Recommended: Chromecast Tubi Using Android, iOS, and PC
Wrapping up: Watch Now TV
That's how you watch Now TV on Chromecast with Google TV. Now TV is one of the greatest streaming services in the UK. As previously stated, Now TV is a geo-restricted application, and you can only stream content when connected to a VPN. There are numerous VPNs for TV access. To watch Now TV, you can install premium services such as ExpressVPN or NordVPN on your device and link it to a UK VPN. Hope you understood our article and can cast Now tv on Google TV. If you have anything to share you can share them in the comments section below. Thank you for reading.
Frequently Asked Questions
Is a VPN Required to Stream on NOW TV?
Because NOW TV is only available in the UK, you will most likely need to connect to a VPN to stream content. Additionally, due to the geo-restriction, you are unable to access the NOW TV platform from outside the US. However, you can bypass the geo-restrictions and get NOW TV from anywhere in the world by connecting to a VPN. Additionally, you require the best VPN, such as ExpressVPN, to bypass geo-restrictions.
Is there a free NOW TV app?
Yes, downloading the NOW TV app is cost-free. However, in order to use the NOW TV app, you must have a subscription.
Is the NOW TV app compatible with Google TV?
Of course, both NOW TV and your Google TV device support Chromecast. The NOW TV app can therefore be cast to a TV.
Why is NOW TV not casting to my Google TV?
To resolve the casting issue, ensure that your phone and TV device are both linked to a reliable internet connection. Also, keep both devices close enough together to connect. Reset the network settings on your phone.
Will NOW TV be available in Ireland?
No, unfortunately. NOW TV is presently only accessible in the United Kingdom. To conceal your location, you can utilize a VPN service.