What exactly is Pantaya? Pantaya offers what kind of content? Is there a way to see it in English? Here's all you need to know about the streaming service that's bridging the gap between Latin American culture and streaming. Pantaya is another site that lets consumers watch Spanish-language entertainment from the comfort of their own homes. The streaming service is now available in the United States and Puerto Rico, with material available worldwide via other streaming services like Amazon's Prime Video. Whether you're a member of the Spanish-speaking community, looking to catch up on the latest telenovela, or just want to learn Spanish but are terrified of the Duolingo owl, we've got you covered. Pantaya has you covered.
What type of content does Pantaya offer?
Pantaya now has over 300 titles available to stream, both old and new. Popular family-friendly films and programs, as well as more mature entertainment for adult audiences, are available on the site.
Can I watch Pantaya in English?
That's a no-no. Pantaya does not support English voiceovers or closed captioning at this time. Instead, the platform is aimed at the Spanish-speaking community in the United States. If this does not apply to you, I would suggest having Google translation on hand.
Where can I watch Pantaya?
Pantaya has an app available for Roku, Amazon FireTV, Chromecast, Apple TV, Samsung Smart TV, Android TV, iPhones and iPads, and Android phones and tablets. This streaming service is also available as an add-on through Amazon Prime Video.
Add Pantaya to Roku device-
Via your Roku remote, navigate to the Home menu on your device.
From the left-hand sidebar, select "Streaming Channels." The Roku app store should now open.
In the search box, type ''Pantaya'' and search for it.
When you've found the channel you're looking for, click "Ok" to see its summary.
When you're ready to add the channel, click "Add channel." However, Subscription-based channels, on the other hand, have a "Buy" button. If you've previously set a PIN for your Roku account, you'll be requested to enter it before installation begins for the Pantaya.
Now you have to wait for a little while until the Pantaya is installed on the device.
You are ready to access Pantaya on your Roku device.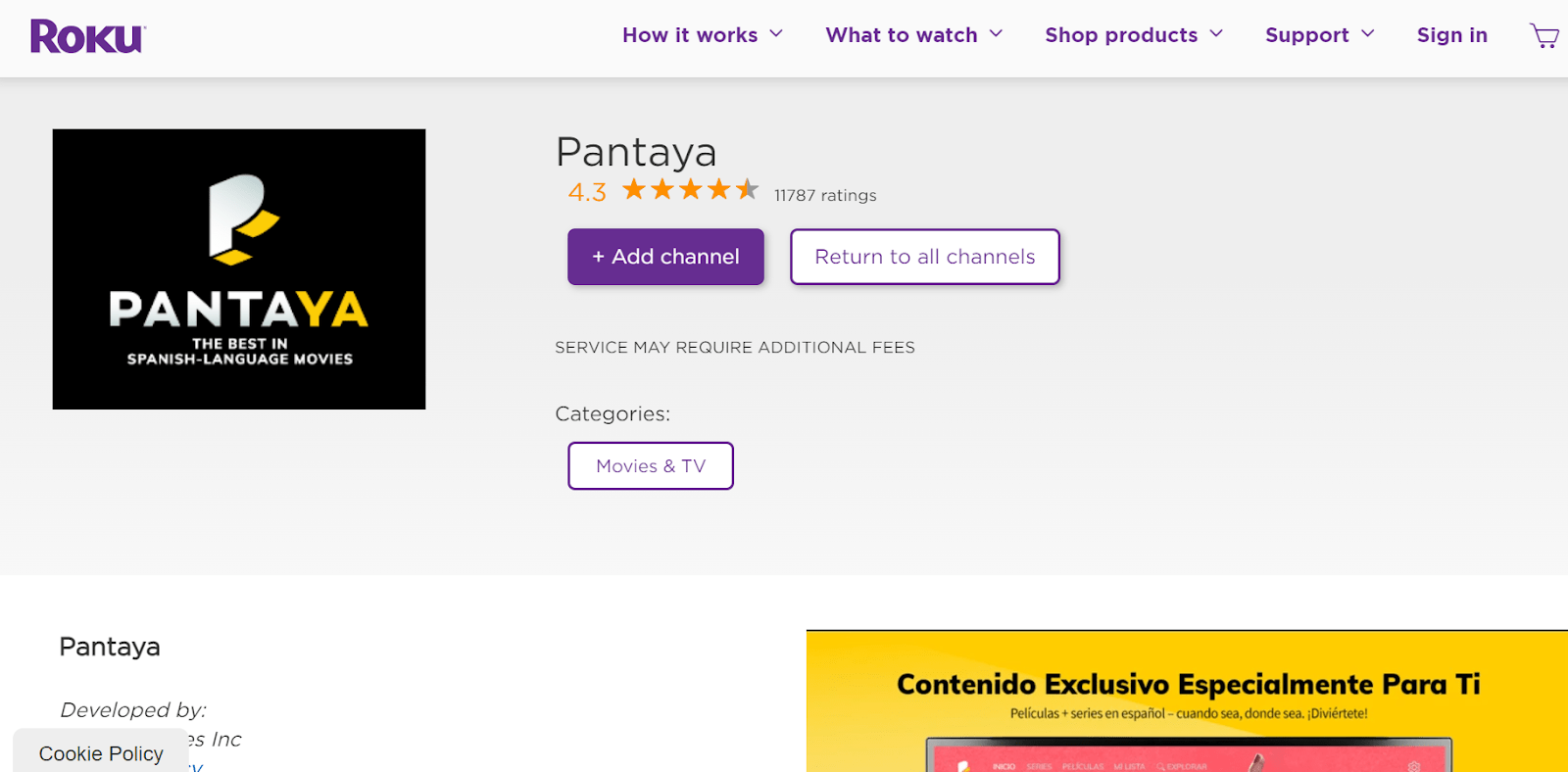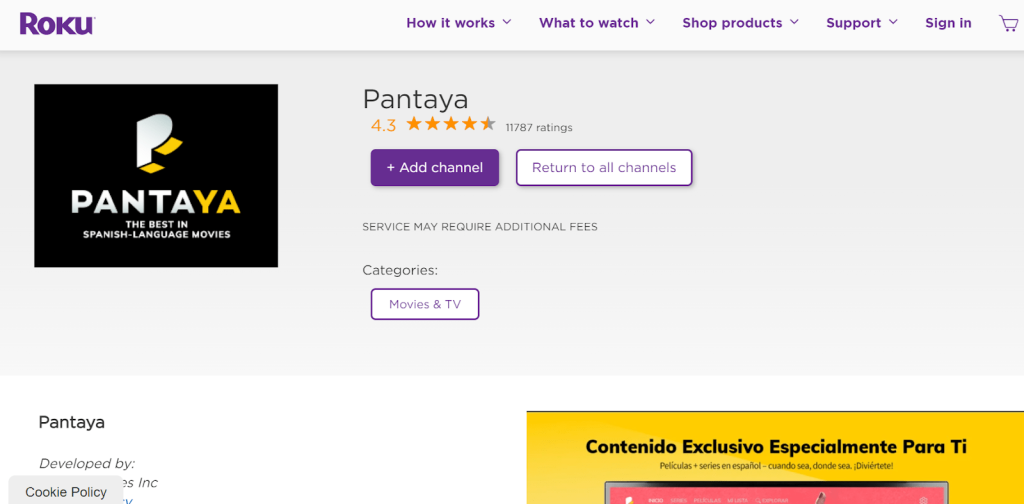 Is it easy to make Pantaya Playlist?
It's as simple as using any other streaming service. Pantaya provides a playlist option that allows you to add films you wish to watch later to a list that will be available each time you enter back into the site. Pantaya also has a search feature that allows you to browse titles by genre, era, and other criteria. It's worth noting that the service offers consumers the option of viewing the site in both English and Spanish.
Which shows are considered best to watch on the channel?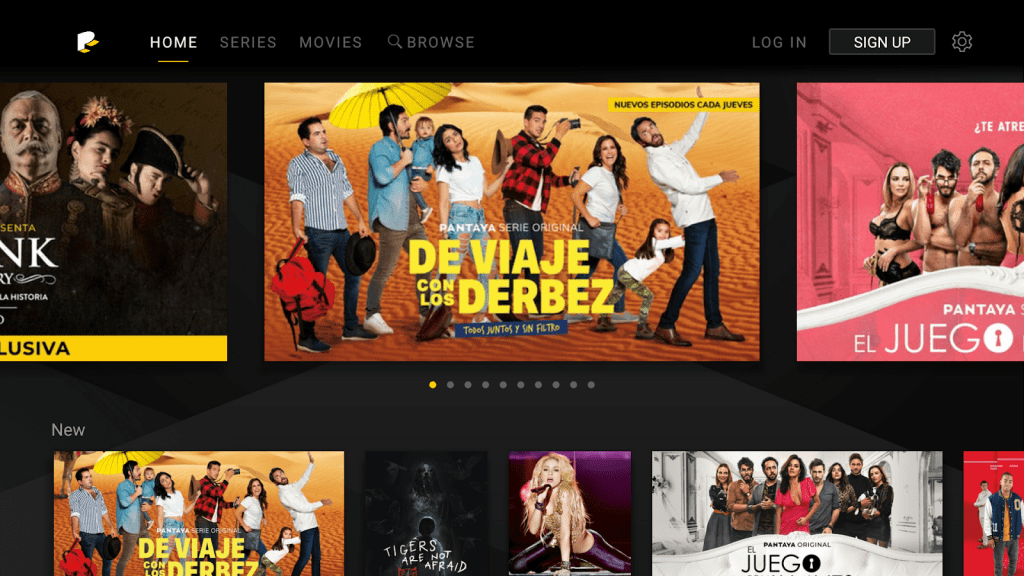 Grand Hotel
It is a Carlos Sedes-directed Spanish drama television series starring Yon Gonzalez and Amaia Salamanca. It premiered in Spain on Antena 3 on October 11, 2011, and in the United Kingdom on Sky Arts 1 on November 18, 2012.
The series, which was shot at Santander's Palacio de la Magdalena, is set in an early twentieth-century aristocratic hotel during King Alfonso XIII's reign and revolves around the mysteries that surround the owner family and hotel staff. Grand Hotel has won multiple awards and gained critical acclaim from television reviewers.
| | |
| --- | --- |
| IMDb Rating | 8.4/10 |
| Genres | Drama, Crime |
| Runtime | 52 min |
| Director | Carlos Sedes, David Pinillos, Manuel, Jorge Sanchez-Cabezudo, Gomez Pereira |
El tiempo entre costuras
Sira Quiroga is a young Spanish dressmaker who is engaged to a decent suitor when her world is turned upside down by a slick typewriter salesman. A civil war is raging in Spain, and the new regime's increasing links with Nazi Germany are causing havoc. Sira is spunky, smart, brave, and resourceful, with a Scarlett O'Hara-like capacity to whip up designer duds on the spur of the moment. Sira makes and loses a modest fortune, is rejected by her cad of a lover in Morocco, runs firearms to earn the money she needs to start a new life, and eventually becomes a couturier to the Nazi spouses stationed in Madrid. Sira is persuaded to help the British cause by her friend, real-life British spy Rosalinda Fox.
| | |
| --- | --- |
| IMDb Rating | 8.3/10 |
| Genres | Action & Adventure, Drama, Romance, History |
| Runtime | 1h 5 |
El Barco (The Boat)
As a result of a global tragedy caused by a horrific accident in Geneva (Switzerland) during the implementation of the particle accelerator, the crew and children of the school-ship Polar Star will experience the greatest adventure of their lives. Isolated and conscious that we have only each other, they will turn to the ship as their only home.
| | |
| --- | --- |
| IMDb Rating | 7.3/10 |
| Genre | Action & Adventure, Science-fiction, Drama |
| Runtime | 1h 19min |
MalaYerba
"MalaYerba" follows the story of three young, educated, and ambitious entrepreneurs named Félix, Mariana, and Ignacio, who bet on a market that has recently become legal in Colombia: medicinal cannabis. KannaLab, their company, swiftly becomes every entrepreneur's dream and the envy of their generation. Mariana has the land to grow, Ignacio has the network, and Félix has the perfect and one-of-a-kind seed with which they will control the globe. However, their lives will be turned upside down when Lola, an aspirant journalist, examines their company and uncovers a sinister history behind the well-known seed.
| | |
| --- | --- |
| IMDb Rating | 8.6/10 |
| Genre | Drama, Thriller, Mystery |
| Runtime | 45min |
La delgada linea amarilla (The Thin Yellow Line)
Five men are hired to paint the yellow line on the forgotten road connecting two villages in Mexico. Aboard an old pickup truck, he began work on more than 200 kilometers of asphalt and yellow paint, which he planned to finish in less than a fortnight.
| | |
| --- | --- |
| IMDb Rating | 7.4/10 |
| Genre | Drama |
| Runtime | 1h 35min |
You are all set to watch Pantaya on your Roku device. Some of the amazing shows are also given, you know what you can watch on the channel now. You are all ready now.