How can you activate HULU on Roku device? You will get to know this. First, let's start with
all the things you need to know about HULU. Hulu was first established in 2007 and has since evolved to become a well enough and popular video-on-demand platform that can be seen on a variety of devices, including many Roku players. It has a large collection with a number of movies and TV shows, as well as original content that has received critical acclaim. We cover all you need to know about how can you use, stream, and activate HULU on Roku devices in this article. We also go over the stuff that's available to stream from the company's streaming library.
HULU on Roku
You can stream HULU on a Roku device, including multiple models of the Roku streaming devices. Here are the models-
Roku Ultra
Roku Premiere and Premiere +
Roku Express and Express +
Roku 3 and 4
Roku 2 model 4210X
Roku Streaming Stick model 3500X or above
Roku TV
4K Roku TV
Select Settings > System > About from the Roku home screen on your TV to see which Roku model you have. Make sure your Roku device is updated to version 8.1 or above before downloading the Hulu app. On the Roku main screen, go to Settings, then System, then System Update > Check Now > OK to search for updates.
How to stream and Activate HULU on a Roku device?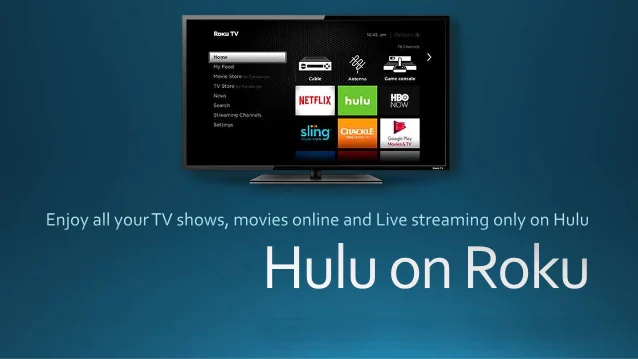 Before you try to install and activate Hulu on your Roku device, make sure you've signed up for a Hulu membership plan.
To get started, press the Home button on your Roku remote, then pick Streaming Channels from the left-hand menu, followed by Search Channels.
Then, in the supplied search field, type "Hulu" and select the Hulu option that appears. Then choose Add Channel to start the download procedure.
The Hulu app will appear on the Roku home screen after it has been downloaded. Before you can browse and stream videos, you'll need to sign in with your Hulu account details the first time you use the app.
These were the steps to how you can stream HULU on a Roku device and enjoy the amazing library of the HULU platform. If you are wondering what all is available in the HULU library then let me tell you.
What can you enjoy on HULU?
Over 2,000 movies and 1,000 TV episodes are available on Hulu, including critically acclaimed Hulu Originals like The Handmaid's Tale, which received an Emmy.
There are also a variety of documentaries and family-friendly shows to pick from, as well as a continually updated catalog of new material.
Hulu, for example, has over 65 network TV stations that you can live-stream for $64.99 per month if you subscribe to the Hulu Plus Live TV subscription plan. You'll have your pick of news and sports, and you'll be able to keep up with a variety of shows, series, and documentaries from a variety of major TV networks.
Optional network packages, such as HBO Max, Showtime, and Cinemax, can be purchased to tailor your Hulu subscription.
What other streaming services do Roku users have access to?
Netflix
Disney Plus
Amazon TV Plus
Apple TV Plus
Youtube
BBC iPlayer
Crunchyroll
Twitch
Now TV
Sign up on HULU
Here are the steps to how you can sign up for HULU. as this will be the next step once you install HULU on your Roku device to stream it further. Follow the steps mentioned below-
On your Roku device, download and launch the Hulu app.
Start Your Free Trial by clicking the button.
Choose a strategy: Hulu, Hulu (No Ads), and Hulu + Live TV are all available on Hulu.
If you choose Hulu + Live TV, keep in mind that some Roku models may not support live TV.
Select Continue to fill out your account information.
Type in your email address, password, and any other personal information you may have.
You can sign up using the same email address as your Roku account or create a new one.
If you're asked to log in instead of selecting a plan, it means you already have a Hulu account linked to this email address.
To finish the process, review your plan choices and click Confirm.
Examine and accept the Roku Pay conditions.
You should now be ready to sign in, tailor your suggestions, and begin watching Hulu.
Sony PlayStation consoles: PS3 and PS5
Xbox consoles: Xbox X, Xbox S, Xbox One, and Xbox 360
Nintendo Switch consoles
iOS devices: iPhone and iPads
Android devices: phones and tablets
Computers: Macs and PCs
Smart TVs: Android, Apple, Vizio SmartCast, Samsung, LG
Amazon Fire devices: tablets, TVs, and Tv sticks
Google Chromecast devices
Roku devices
Xfinity Flex Streaming and X1 TV boxes
Changing plans or taking care of add-ons
You get access to all Hulu plans and add-ons as a Roku-billed subscriber, including Hulu + Live TV and Premium Add-ons on select Roku models. Changes to your subscription can be made on Hulu.com or on some Roku devices.
On your Roku device, launch the Hulu app.
Click the Profile symbol in the right corner of the screen.
Go to Account > Manage Account. Subscription
Select a new plan.
After reviewing the payment information, click Submit.
*At this time, add-ons can only be controlled through Hulu.com.
The process to change your payment method
Subscribers who are billed by Roku can change their payment information through their Roku device or account page. You must subscribe directly to Hulu if you want to convert from Roku billing to Hulu billing. Existing Roku-billed members should cancel their subscription first. You can resubscribe at hulu.com/welcome after the balance of your paid monthly cycle has passed.
If in case you make up your mind to cancel the HULU subscription then here you go.
If you're a Roku subscriber,
You can buy channels and streaming services directly from your Roku device if you've established a payment gateway to your account. This allows you to manage and pay for all of your subscriptions from a single location, such as your Roku device or Roku TV. Even if you're not sure if your Hulu membership is charged through your Roku, once you attempt this way, you'll know. Unsubscribing is done in one of two ways: through your Roku player or through your Roku account online. Let's look at both approaches.
Hulu can be removed from a Roku streaming device-
If you have a Roku device, you can unsubscribe from Hulu from both the channel list and the Channel Store. For both ways, follow these steps:
To go to the Home screen, press the "Home" button on your Roku remote.
Go to the "Channel Store" section of the menu.
Choose "Streaming Channels" from the drop-down menu.
Alternatively, you can use the arrow buttons on your remote to move the channel list to the right side of the screen.
The Hulu channel should be highlighted.
On your Roku remote, press the "*" (asterisk) button.
To see more options and subscription information, go to "Manage subscription."
To cancel your membership, go to "Cancel subscription."
Confirm that you want to remove yourself from the channel's list of subscribers. You'll be asked whether you want to keep the channel until your subscription expires or delete it immediately. You can retain the channel until it's due because Hulu will charge you the full membership price anyway.