Just consider how frustrating it would be if we were unable to use our debit or credit cards, even if we have one, for a few minor reasons like card activation, Login issues. We'll now go over the steps to fix the activation problems with Cabela's Mastercard. This is a Capital One rewards credit card. If you're curious about fixing Cabela's Login issues. You will have all the information you need from this article.
Key Takeaways of Cabela's Mastercard:
Welcome bonus: Offers a 20-point welcome incentive that can be used to purchase travel, gifts, or other benefits.
Affordable APRs: The variable purchase APR for the Cabela's Club Mastercard ranges from 15.24 percent to 26.99 percent.
No yearly charge: For those searching for a rewards card with minimal maintenance, this is a fantastic choice. You receive incentives for your purchases without being required to pay an annual fee.
Balance Transfer Cost: On balance transfers, Cabela's Club Mastercard levies a 3 percent fee. For instance, the transfer fees for a $1,000 amount might be $30.
Multiple advantages of credit cards: Includes significant credit card benefits including extended warranties for purchases, identity theft protection, price protection, and fraud protection.
Earn exclusive rewards with our Shop Your Way Card guide
How do you handle your Cabela's Mastercard account?
All Cabela's Cardholders have access to the capital one login page to manage their credit balances. The card's issuer, Capital One Bank, administers the card account using a special webpage. The following list of online services that are accessible through Cabela's Capital One account.
View the summary of your credit card, its balance, its available credit, etc.
Save a copy of your card statement.
Pay your credit card bill and sign up for autopay.
Manage significant transactions, fraud, and credit card alerts.
Utilize CreditWise® to check your credit profile.
You must first log in before you can manage your account.
Cabela's Mastercard Login:
After logging into their Capital One account, all clients can manage their Cabela account. The steps for logging in are listed below. Please look at this.
Logging in using a Capital One Mastercard at Cabela's: for that, you have to
Visit the official Cabela website.
Now, select the Club option from the top menu.
Click the Manage My Account tab on the Cabela's Club page.
On the screen, a new account page with links to your Capital One credit card account and Cabela's club account login pages will appear.
Under Manage your Capital One account, select the Sign In option (as shown in the below image).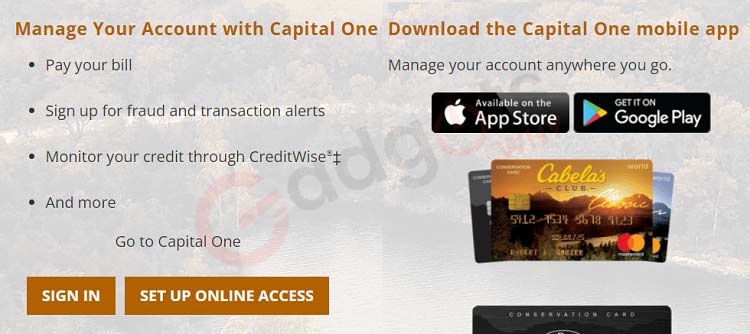 Your browser will take you to the login page for your Capital One credit account.
Enter your username and password on this Capital One login page.
Finally, click on the Sign in button to access the site.
Also Read: Activate Surge Credit Card
What happens if I can't log in to Cabela's Mastercard?
If you are unable to log in to Cabela's Mastercard account for any reason you can't get access to their online services like checking the summary of your credit card, its balance, its available credit, and Saving a copy of your card statement. Paying your credit card bill and signing up for autopay and many more. So It's essential to fix the Login Issues. In a further section, we will demonstrate how to fix the Login Issues of Cabela's MasterCard Credit Card.
Fix the Login issues of Cabela's Mastercard:
1. Check Your Login Credentials:
Verify that you are using the appropriate credentials. Make sure you haven't messed up any of your bank logins if you use more than one. The suggestion is straightforward, yet it shouldn't come as a surprise how frequently a skipped character or unintentional capital letter causes an issue. We suggest you reset your username and password if you find it difficult to remember them.
2. Check the Service Status of Your Bank
You should be sure the issue isn't with your bank before doing any debugging measures. Looking at your bank's service status page, if it has one, is the easiest way to do this. You can discover the page by searching for "[bank name] service status" on the internet. You might also try checking the bank's official social media profiles to see if anything has been posted there if it doesn't exist.
3. Ensure to use Banks Official website for Login:
Give up what you're doing. You should constantly be cautious because online banking fraud is frequent. Are you sure you're on the right website when you enter your login and password? You can be falling for a phishing scam, which is the reason you can't log in to your online bank.
Make sure you're on the official website for your bank by checking the address bar twice. This requires not just reading the URL but also scanning for the secure connection symbol, which is typically a lock that is associated with your bank.
4. Refresh Your Browser
Always check to see if your web browser is running the most recent version. New security features, compatibility improvements, and a ton of other goodies that can improve your surfing experience may be included in an update. Additionally, it might resolve any troubles with the login that you might be facing when browsing. Your browser should automatically update itself. In the address bar of Chrome, type chrome:/settings/help to manually check for updates. Go to Menu > Help > About Firefox on Firefox. As an alternative, you can download the most recent version from the browser's official page.
5. Clear Your Site Data and Cookies
Cookies are used by all bank websites. The login issue, however, can be brought on by an out-of-date cookie. You may not delete all cookies, Instead, look up the domain name of your bank and remove those particular cookies from there. Although it'll be more difficult to tell if they're also employing cookies from a different domain, it's a smart first step to take.
6. Still flawed? Speak to Your Bank customer service agent
After following all of these instructions, your bank is probably to blame if you're still unable to get into your bank account. Call the bank, describe the issue, and then adhere to their troubleshooting instructions. When using online banking, exercise caution. There are many evil organizations out there that will try to enter your bank by picking you as their target. Never divulge your personal information; be cautious.
Customer Service:
Customers can call the Capital One customer service phone lines for any questions or assistance relating to their Cabela's CLUB Mastercard, login, including online payment, technical problems, general questions, lost or stolen cards, etc.
Holders of Bass Pro Shops CLUB cards: 1-800-300-1723
Cabela's CLUB card – 1-800-850-8402
Trending: Fix Ultamate Rewards Card activation issues
How to reset your password and Username of Cabela's Mastercard?
If you forget the password for your Capital One account, you can reset it by following the instructions below.
Go to the Capital One login page for Cabela's.
Hover your cursor on the Forgot password link next to the login form.
On the following page, you will be required to provide information such as your last name, social security number, and birthdate.
Click the Find Me link in step four. Your account details will be checked against Capital One's database.
After your account has been located, you will get an email with instructions on how to change your password.
Open the Capital One email in your email program. Make a new password by clicking the Password reset link in the email.
If you forget the username for your Capital One account or Cabela's Mastercard, you can reset it by following the instructions below.
The procedures for recovering your username are the same as for resetting your password if you can't remember it as well.
You can quickly retrieve your login if you only enter your account information.
Conclusion:
Fortunately! With this blog, you may fully resolve your Cabela's Mastercard Login issue by following the aforementioned steps. But if the problem continues, take a quick call to a customer support representative without wasting any of your precious time. The best experts that can assist you over the phone will quickly fix your login problem. Please leave your questions in the comments area below if you want to share them. We appreciate you reading our blog and following us for news and updates.
Frequently Asked Questions:
How can I get my Capital One account unlocked?
Please contact customer service at 1-877-383-4802 to unlock your account. Please visit their Identity Protection page to learn more about how they can help if you think you were the victim of fraud. After too many failed sign-in attempts, my account was frozen.
How can I get my Cabelas Mastercard activated?
When the primary card is active, so will any other credit cards linked to this account. How can I get my Cabela's Mastercard activated? Before using your new card, you must activate it and create an account with Capital One. You can do this by following the link or calling 1-800-300-5984.
How can I raise the credit limit of my Cabelas Card?
You can call 1-800-955-7070 to request an increase in the credit limit on your Cabela's credit card. Remember that your account must be at least three months old and that no credit changes during the previous six months are permitted.
How do I link my Cabelas card to my account?
YOUR CLUB ACCOUNT IS ACCESSED BY CLUB ONLINE SERVICES. AT CABELAS.COM, SAFELY.
1. Create a new account on cabelas.com or login in with an existing one.
2. Choose "Connect Today."
3. To connect your card, create an account with Capital One or log in.
How can I make an online Cabelas Mastercard payment?
Log into the Cabela's Credit Card website, select "Make A Payment," and then enter the required information to pay your account online. Next, you can add your bank account and routing number as a payment method or choose your preferred payment account.